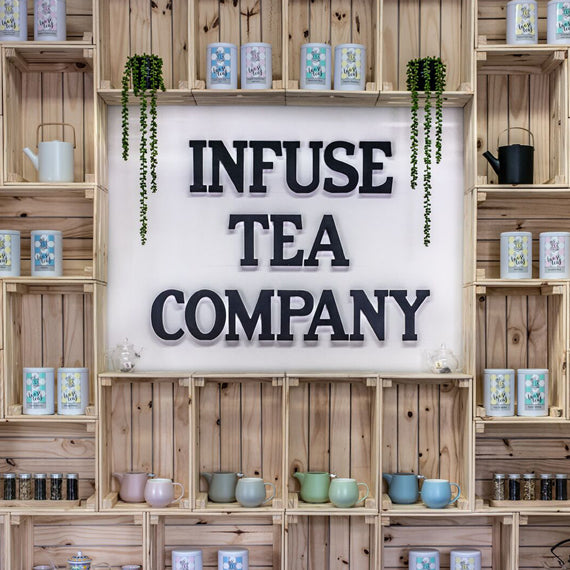 OUR PASSION
Our passion for tea began back in 2002, when we started up a coffee roastery/café. Along with serving a quality good coffee we also wanted to offer our clientele a good cup of tea not just your standard supermarket bought tea bag, but a superior quality loose leaf tea.
From this we soon discovered the excitingly vast range to different tea and tisanes available. Our standard range of 5 – 6 varieties soon turned into a plethora of options and from that point on we began selling tea both retail through the café and wholesale onto other cafes and restaurants along with the coffee.
CHANGE
In 2009 we were blessed with the birth of our first child, this lead to the tough decision to divide up our business. Sadly, we decided it would be best to sell the café, so we could then focus solely on roasting and wholesaling coffee and tea, which we did up until nearly the end of 2015 when we sold the coffee side of the business.
NEW CHAPTER
And so, began a brand-new chapter and business with the beginnings of Infuse Tea Company. Our sole goal now is to source and supply the finest quality Loose Leaf teas and Tisanes available from around the world. Our days are now filled with great joy as we get to experiment and create new lovingly handcrafted tea blends without the use of artificial flavouring.
To complement our tea range, we also offer a variety of latte powders such as Turmeric, Chai, Matcha and Chocolate powders such as Beetroot, Chilli, Organic Chocolate and Organic white chocolate.
In 2017 Kim travelled over to Japan to purchase a Fuso Tea pouching machine. This state of the art machine allows us to create tea pouches using our very own artisan tea's and tisanes, without compromising on quality.